Creality, as a 3D printing pioneer, is always focused on the concept of professionalism, dedication, innovation, and quality. It continues to provide consistent, high-quality and well priced products. They are making every effort to ensure that everyone benefits from technology. And now, here are some of Creality´s best 3D printers to help you decide which one to buy.
Creality 3D CR-10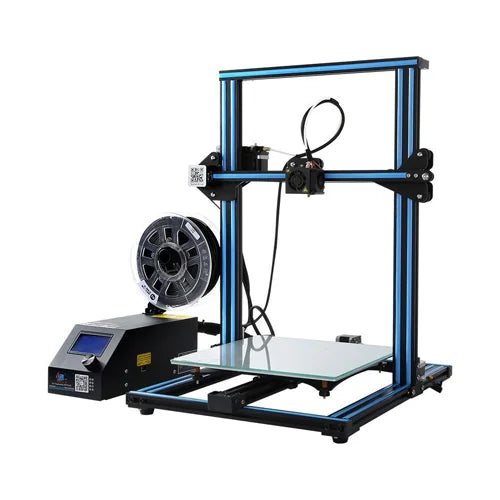 It's a big Cartesian 3D printer with a separate control box, go-faster stripes, and a 300 x 300 x 400 mm build area. Even larger versions are available, with print surfaces of 400 mm and 500 mm cubed. Many other companies are also copying the Creality CR-10's distinctive appearance, even down to the colour stripes. Creality must have done something right if imitation is the sincerest form of flattery.
The features of CR-10:
WIFI capability built-in: Printing may be controlled remotely at any time and from any location.
Low Power Mode: Save energy and power in a safe manner without any worrying.
It starts to print after the initial auto-leveling thanks to intelligent auto-leveling.
Dual Z Axes+Dual Diagonal Drawbars: it makes sure that printing is stable and exact.
Creality 3D CR-5 Pro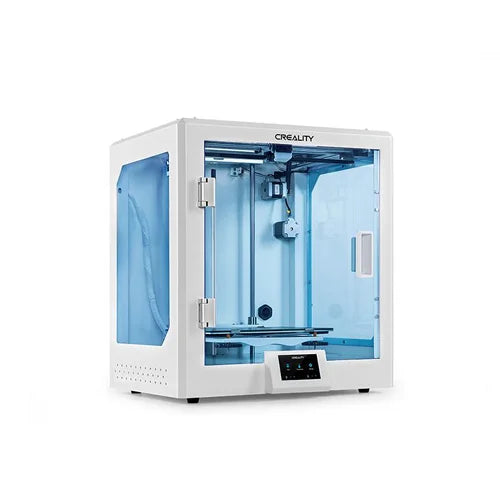 It is a full-meal pre-assembled enclosed 3D printer, with a blue transparent door. It has a large print size of 300*225*380 mm. The fully-closed chamber helps to stabilize temperature to improve printing filaments such as ABS. The maximum nozzle temperature is 300 C, with a high power fan and excellent heat dissipation. The full-metal chamber helps to avoid daily damage and scratches. You can use cloud printing as well after connecting the device with the Creality Box. The Box can connect to multiple mobile phones as well.
Features of the CR-5 Pro
4.3inch touch screen
Low power mode to save energy
300 C nozzle temperature
Intelligent auto-leveling
An Ultra-silent motherboard
Cloud Printing with Creality box connection.
Creality Ender-3 V2
The Creality Ender-3 V2 is a fantastic cheap 3D printer. The use of V-belt pulleys, which assure smooth movement, low noise, wear resistance, and extended printing life, is the key selling point of the Ender 3 series 3D printers. A new XY axis Tensioner has also been introduced to the new Ender 3 V2, allowing for a faster and more convenient belt tension adjustment. The extruder now has a knob that makes it easier to use. Consumables must be loaded and fed. Ender 3v2 printing is more stable as a result of these enhancements. The Ender 3 is one of the most popular 3D printers on the market for hobbyist.
Features of the Ender-3 V2
32-bit Silent Motherboard
A new Carborundum Glass Platform
220x220x250 mm Print Size
Brand new XY axis Tensioner, it makes the process much smoother
4.3 Inch colored LCD Screen and UL Certified Meanwell Power Supply
Ender-3 S1
Ender-3 S1 is one of the best 3D printer you can buy when you are on a budget. With a new dual-motor design, and PC magnetic build plate it is way more precise and it supports PLA/TPU/PETH/ABS print filaments as well. The Ender-3 S1 is pretty light as well with auto-leveling.
Features of the Ender-3 S1
Ender-5 PRO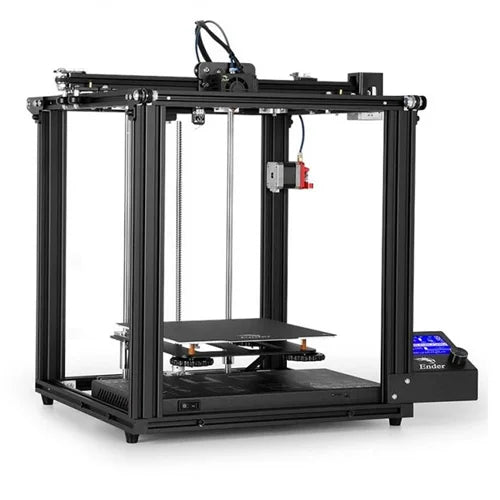 This 3D printer has a box design and a solid cube frame with Overhead Gantry. It comes with an ultra large printing format. With this you can achieve better results and a larger print model as well. The Ender-5 was built to last long, and you can print with it every day and it would work perfectly every single time. Stable Z-axis screw are really smooth and steady, and this helps to keep the movement of the build plate more stable.
Features of the Ender-5 PRO
Dual Z-axis
Large Printing Format 350x350x400 mm
Auto-leveling pre-installed
Ender-6 3D Printer
Creality In Core -XY Structure, new cubic Ender-6 3d printer with higher precision and faster printing speed (3X speed). The Ender-6's build volume of 250 x 250 x 400 mm places it in the middle of the Ender-5 Pro (220 x 220 x 300 mm) and the CR10 series, which starts at 300 x 300 x 400 mm. For the vast majority of your daily print operations, this should suffice. The printer has a elegant design, with a all metal chamber and blue transparent door and corners.
Features of the Ender-6
Silent Printing with Germany-imported TMC motion controller
250x250x400 mm Printing Size
Stable Cory XY Structure
Fast Printing Speed, it can achieve speeds up to 150 mm/s
Creality is in its eighth year, and despite some ups and downs, they are still pushing the 3D printing industry forward. They are all over the world, in Europe, America, The United Kingdom and in Australia as well. If you buy any of these you will find a large range of products available for upgrades or maintenance easily obtainable due to their popularity. Also being so popular helps with finding information on trouble shooting problems with communities all over Reddit, Facebook and Discord.
Article by Bolond44 for 3Docity.com.au
All images copyright of creality3dofficial.com

This work is licensed under a Creative Commons Attribution 4.0 International License.